Gutsy Broads
I launched Gutsy Broads in late 2014 with the purpose of inspiring women to live boldly, unapologetically and according to their own scripts. Community is core to the site's message, and because Facebook is widely used by my target audience — and because the return on investment there is superior — that's where I've focused my social media efforts to date. The page's growth has been tremendous, particularly given my paltry bootstrapped budget.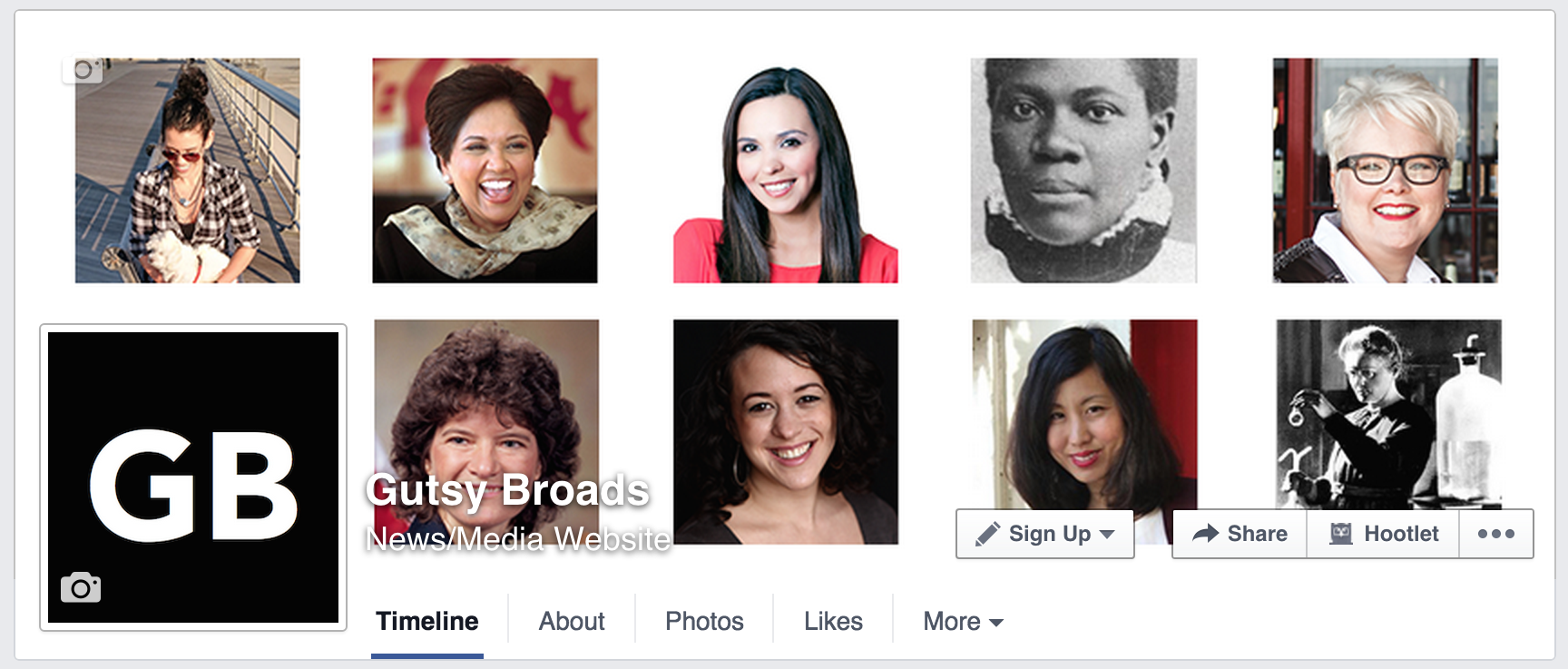 The Dallas Morning News
I had the pleasure of developing and executing social media strategy for one of the nation's largest daily newspapers and worked closely with editorial and technical staffs. I introduced search engine optimization tools and publisher-specific meta tags to the website and led training sessions on SEO, social media and headline best practices. I also helped design and launch a premium site and advised the paper on building a community blogger network. Under my watch, search referral traffic increased 23%, and the paper's Twitter and Google+ follower counts grew 100% and 400%, respectively.
Twitter
My goal was to create something original for The Dallas Morning News' Twitter feed in honor of Thanksgiving by expressing gratitude for companion animals. I wanted a photo grid of people's pets, but we didn't have enough close-up images in our library to support the project, and I didn't have a way to credit photos from Creative Commons. So, I asked my colleagues if they'd mind sending me photos of their pets. Their responses poured in, and I was able to create a gorgeous collage that inspired our readers to send in photos of their own pets along with reasons they were grateful for them.
We're thankful for the pets in our lives. Retweet this if you are, too. #HappyThanksgiving pic.twitter.com/Ry66XrsmKK

— Dallas Morning News (@dallasnews) November 28, 2013
This helped the paper in a couple of ways: First, it spurred reader engagement, which was a goal for my team. Second, it spurred employee engagement. Staffers were genuinely excited about the project and proud to show off their pets on their own social channels. Several even asked me for the original file so they could print out poster-size copies for their families.
Google+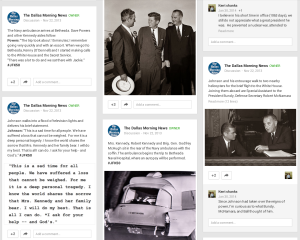 In part because of its potential to drive search traffic, I made Google+ a key focus area at The Dallas Morning News. After I established a relationship with a Google rep, the DMN became one of G+'s recommended publishers, and our follower count grew tremendously. Given that success, Google handpicked us for an experimental live-streaming program on the 50th anniversary of President John F. Kennedy's assassination. I wrote and produced a daylong, real-time re-creation of that day's events that ran on our main page as well as within our JFK Headquarters community, which I'd created months ahead of the anniversary and is still active today. You can see that community, as well as the posts from November, here.